Are you curious about the future of imaging technology? Look no further than Time-of-Flight (ToF) cameras. With their ability to capture depth information in real-time, ToF cameras are revolutionizing industries from gaming and virtual reality to healthcare and autonomous vehicles. In this blog post, we'll explore the power of ToF camera technology and how it's changing the way we see the world around us. Get ready to dive into an exciting new frontier of imaging!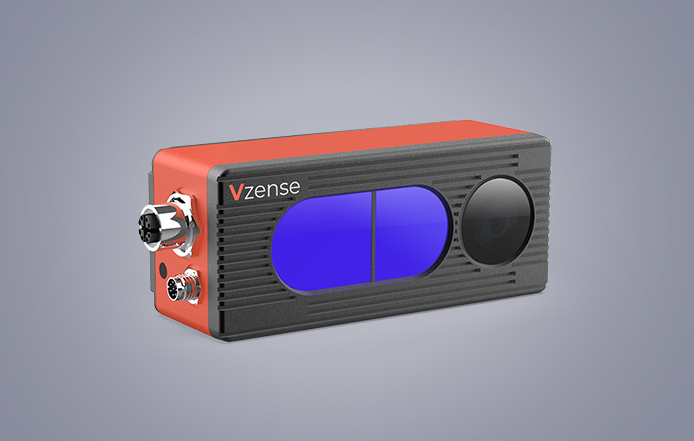 How a ToF Camera Works
A time-of-flight camera is a type of camera that measures the distance between two points by sending light waves from one point to the other. This technology is often used in factories to do things like check the quality of parts or keep an eye on production lines.
What Does the Vzense ToF Camera Have--Taking DCAM550 as an Example?
The Vzense ToF DCAM550 Camera is a state-of-the-art Time-of-Flight (ToF) distance camera that can measure distances with great accuracy, speed, and efficiency. The camera has a Nuvoton TOF CCD sensor and a 940nm VCSEL laser emitter, which allow it to take high-quality pictures with a maximum frame rate of 30fps and a resolution frame rate of 640*480. The camera has both a USB2.0 and an RS485 interface, which makes it easy to connect to different devices. The camera uses less than 5W of power and can be powered by a range of 12V–24V. This makes it both energy-efficient and cost-effective. The error in accuracy is less than 1%, which means that measurements are accurate and can be trusted. The camera can see up to 0.35m/6m away, so it can be used for many different things. The software platform works with both Windows and Linux, so it can be used by a large number of people. The camera has a protection level of IP42/IP67, which means that it is not easily damaged by dust or water. In conclusion, the Vzense ToF DCAM550 Camera is a cutting-edge ToF distance camera with high accuracy, speed, efficiency, and protection level, making it perfect for a wide range of distance measurement applications.
Case Analysis: How ToF Camera Assist Forklift Identification
For some warehouses with complex goods placement environments, the docking position of unmanned forklifts is often off by a large angle, leading to the failure of fork feeding and low forklift efficiency because the unmanned forklifts cannot accurately identify pallets using traditional mechanical limit or monocular camera recognition. Vzense proposes a remedy for this problem. With the help of Wisepoint Technology's newly released industrial-grade 3D ToF camera DCAM550 for pallet image acquisition and the corresponding image processing algorithm to identify forklift cargo pallets and get their position and attitude coordinates, unmanned intelligent pallet handling can be achieved, as well as the problem of a large offset angle of unmanned forklift docking pallet position be resolved. Simultaneously, artificial intelligence training and deep learning algorithms are added to the pallet identification model to enhance its ability to identify and locate forklift freight pallets.
Conclusion
Vzense's state-of-the-art ToF cameras are your best choice if you need a dependable and efficient method of taking precise measurements in your industrial 3D Camera applications. These cameras' 940nm VCSEL laser emitter and Nuvoton TOF CCD sensors provide unrivaled precision, speed, and efficiency in distance measuring applications. Vzense's ToF cameras may boost production, save costs, and increase safety in a variety of fields, including logistics, security, and more. Don't put up with faulty readings and time-consuming calibration procedures. See the difference for yourself by upgrading to Vzense's ToF cameras. Besides, you can come and visit our official website to check out more information!