Are you tired of depth-sensing technologies that fall short in accuracy and precision? Imagine a world where machines could truly perceive depth with exceptional clarity and efficiency. At automatica 2023, a renowned trade fair for automation and robotics, Vzense made waves with their innovation: the RGB-D ToF camera DS77C, to showcase their innovative products and cutting-edge technologies. That's not all—Vzense announced an exciting development, the upcoming release of the optimized new ToF depth camera model—DS86/DS87.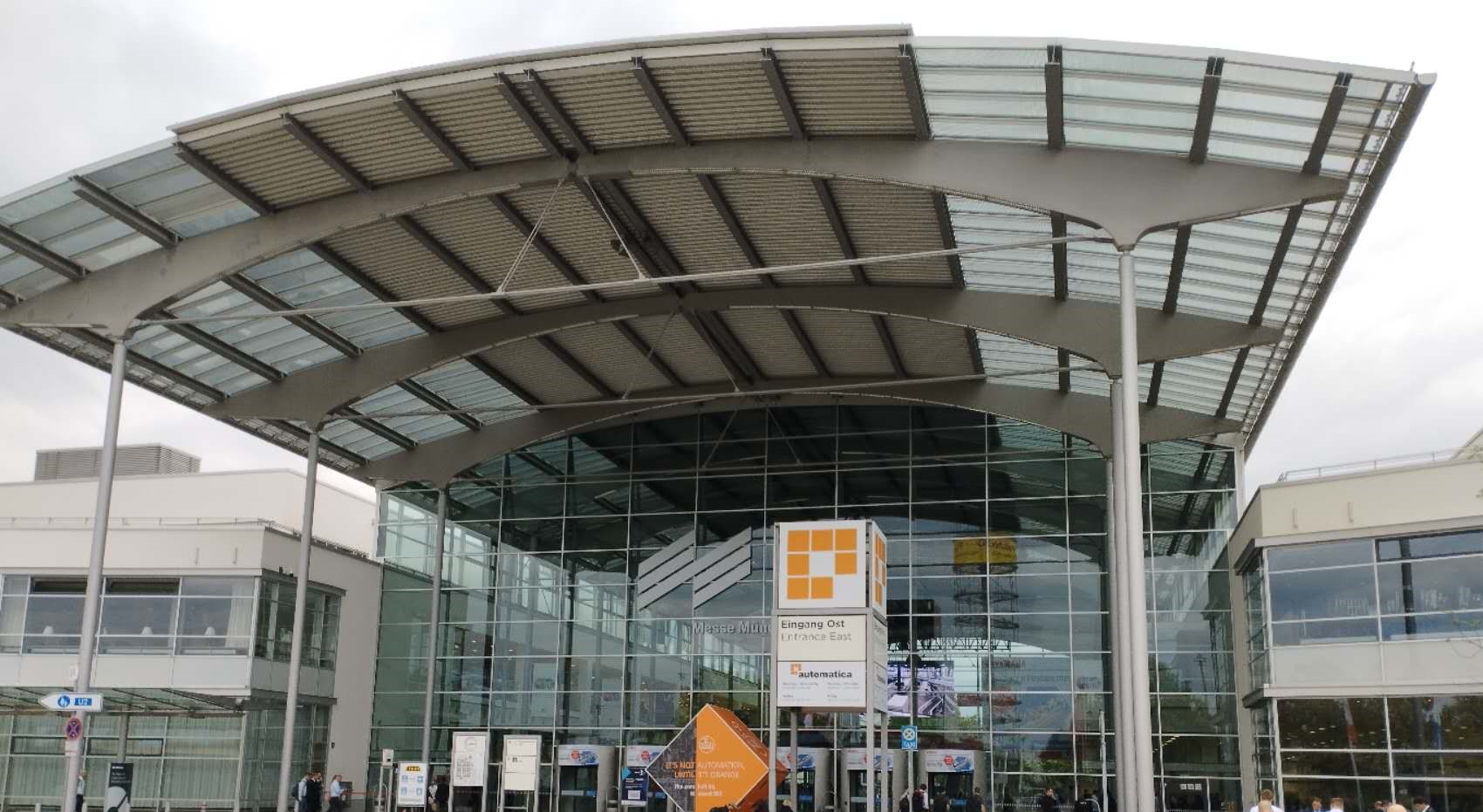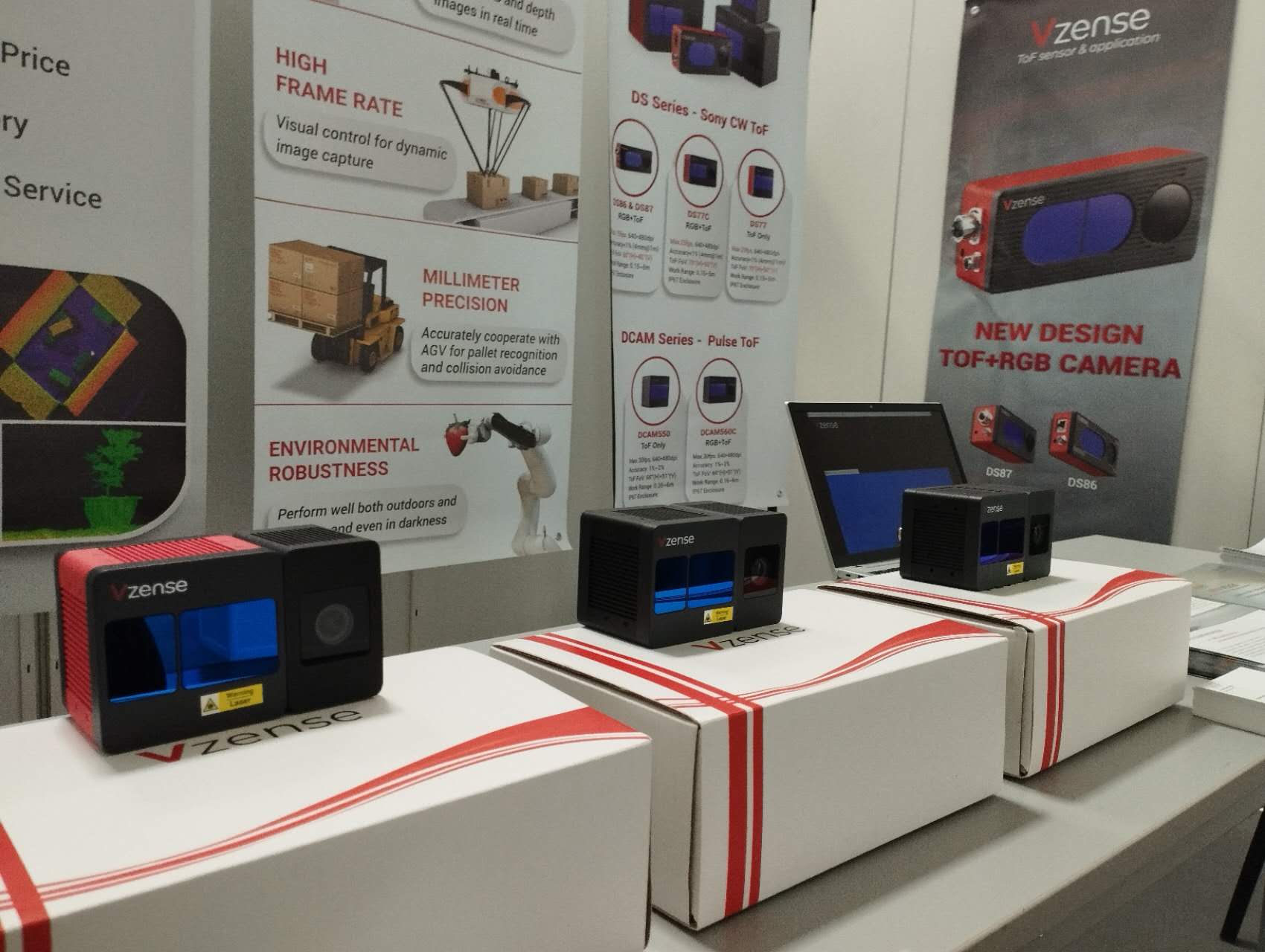 However, what sets Vzense apart from other vision solutions? In this blog, we will introduce the highlights of the Vzense ToF depth camera from the perspective of the automatica 2023.

Vzense RGB-D ToF Camera in automatica 2023
The Vzense DS77C RGB-D ToF camera comes equipped with impressive features and capabilities that redefine depth sensing technology. Leveraging the advanced SONY CW iToF (indirect Time-of-Flight) technology, these cameras offer unparalleled precision and accuracy in capturing depth information. Let's delve into some of the key features and capabilities of these cameras.
The Vzense DS77C camera is powered by the cutting-edge SONY CW iToF technology. This innovative technology utilizes indirect Time-of-Flight principles to accurately measure the distance between the camera and objects in the scene.
Sony CW iToF technology offers millimeter accuracy, long-range capability, robust performance in different lighting conditions, real-time depth sensing, and compact, power-efficient designs. These advantages make it a versatile solution for a wide range of applications, from consumer electronics to industrial automation, automotive, and more.
DS77C cameras combine RGB and depth sensing capabilities in a single device, making them versatile tools for capturing both visual and spatial information. With synchronized RGB and depth data, these cameras enable developers to create immersive augmented reality experiences, perform accurate object recognition, and implement precise hand and gesture tracking. The ability to better identify and distinguish objects from backgrounds, and objects from objects.
To ensure optimal performance in different lighting conditions, the Vzense DS77C depth camera features a Depth High Dynamic Range (HDR) mode. This mode enhances the sensor's ability to capture depth information in challenging lighting scenarios, such as scenes with high contrast or varying intensities. With Depth HDR mode, the ToF camera delivers consistent and reliable depth data, even in difficult lighting conditions, enabling accurate depth analysis and reliable object detection.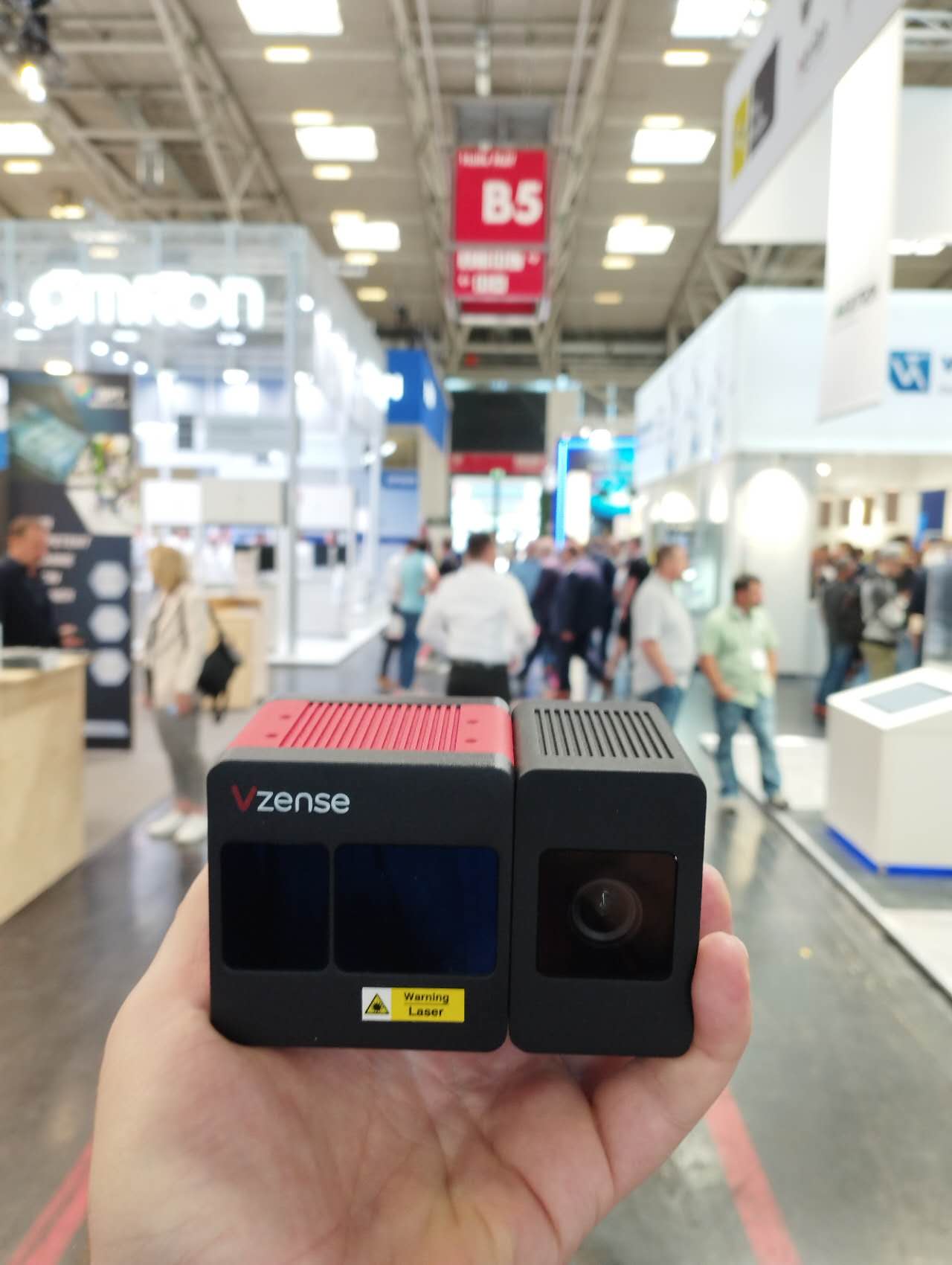 Breakthroughs and optimizations in appearance and performance — DS86/87
The Vzense RGB-D ToF cameras, DS86 and DS87, bring a significant leap forward in both appearance and performance, captivating the attention of industry professionals at automatica 2023. "The DS86 and DS87 cameras represent a significant breakthrough in the field of depth sensing. Most visitors are amazed by its appearance and cost-effectiveness", said Hasan, Vzense's representative at automatica 2023.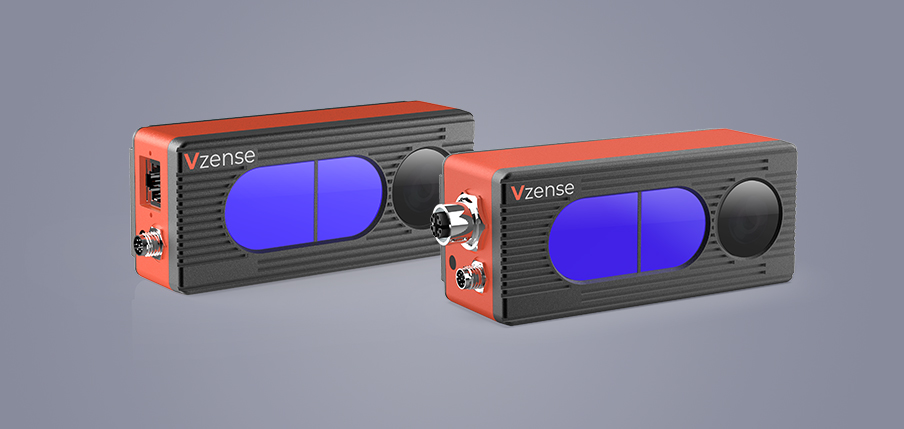 Vzense has prioritized user-friendliness, ensuring that the tof depth cameras DS86 and DS87 are easy to handle and set up. The ergonomic form factor allows for effortless integration into existing systems or devices, enabling a hassle-free user experience. In addition, these two new RGB-D ToF camera fully optimizes RGB resolution and depth image accuracy, which can be more widely and deeply applied to industrial scenarios.

Conclusion
At automatica 2023, Vzense made a powerful statement with their groundbreaking ToF depth camera technology. Hasan, Vzense's new employee from Turkey, showcased the RGB-D ToF camera DS77C, leaving a lasting impression on the attendees. The exciting news was also unveiled the upcoming release of the optimized RGB-D Camera DS86/DS87.
The ToF camera offers exceptional depth perception and RGB imaging, providing precise and accurate data for a multitude of applications. Their advanced capabilities enable enhanced robotic vision, object tracking, and gesture recognition, revolutionizing automation, and artificial intelligence.