Vzense DS series ToF 3D depth camera excels in adapting to changing lighting environments, whether indoors, outdoors, or in any challenging environment. In this short article, we will introduce some cases to show the environmental robustness of Vzense DS Series time-of-flight camera.
Vzense RGB+ToF depth camera, integrated into agriculture AMR, has been used to identify and locate ripe fruits and vegetables, allowing agriculture AMR to harvest crops with precision and efficiency. No matter working under sunlight or in darkness, Vzense ToF camera can always performs well.

Vzense ToF depth camera can be used to measure outdoors materials storage situation. SANY Concrete Pump Truck applies Vzense ToF camera to detect cement slurry height on the screen mech during blanking. With this information, cement slurry blanking speed can be controlled automatically and effectively.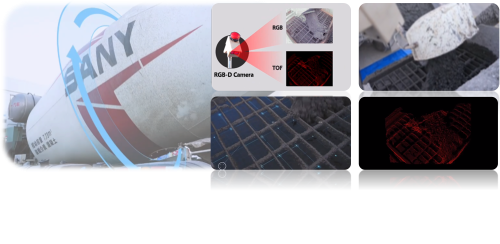 Vzense DS series camera, has been widely used on AGV, especially forklift AGV, to recognize items such as pallets in different environment, like dark warehouses or outdoors. With the information provided by depth camera, the AGV can identify correct items to pick up and transport to its destination.

Vzense ToF camera, installed on top, detects the exact location of the port to guide the loading pipe to the port correctly and complete automated loading.

Test Data Reference 1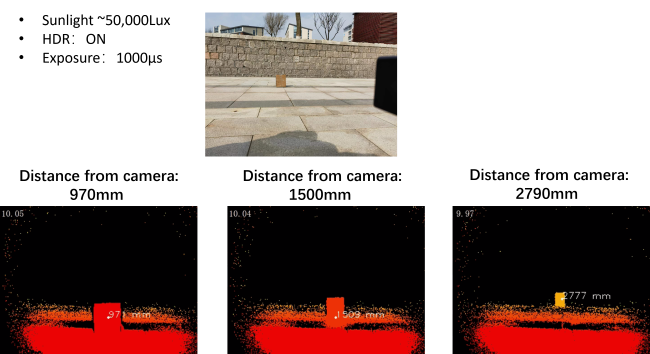 Depth Image
Test Data Reference 2

- Test Target: 100cm * 120cm black plastic pallet
- Environment: 10,000Lux sunlight outdoors
- Distance: ~2meters
- Camera setting: 4000μs exposure time
DS Series (Learn more specs from website)